Ecolid steel doors are based on our industrial door of the same name, and, like it, they are an economically sound and eco-friendly option, which also have a high-finish surface and minimal maintenance needs. Material choice, surface coating and design are harmonized with the industrial door to provide the best architectural solutions when doors are placed adjacent to each other.
BENEFITS OF AN ECOLID STEEL DOOR FROM PRIDO
Based on the Ecolid door Sweden's best-selling folding door

Highest-quality design and finish

Short delivery times and high delivery reliability

Approx. 40% higher U-value than steel frame doors

Thermal break in the frame

Aluminum frame with high torsional rigidity and integrated seal tracks
Air permeability class 4 in accordance with EN12207

Highly effective rustproofing

Quick and simple to install with the supplied frame screws and adjustment sockets fitted to the frame

Minimal maintenance requirements

Developed and manufactured in Sweden

CE-marked according to European standard EN14351-1
Entirely made to measure in many different designs

Standard design available for immediate delivery

Powerful lever handle included as standard

Adjustable security strike plate as standard

7-year warranty

Manual Attack Resistance class RC2 in accordance with EN1627

Back edge lock as standard

Rigid and robust aluminum frame with thermal break. The integrated and adjustable frame sockets and fixing screw for steel or wood enable quick and easy installation. The class 4 lock housing, adjustable strike plate and a high-quality lever handle mean the door is suitable for most premises.
The door is suitable for most premises with slightly higher design and finish requirements where the 11 standard colors on the surface coating also offer great flexibility. Its robust steel-sheet door leaf and aluminum frame together create an impenetrable, well-insulated, value-for-money and easy-to-install door with highly effective rustproofing.
C-frame made for tunnel installation is attached to the wall using screws and adjustable sockets for quick and easy installation.  The locks, strike plates and lever handles are carefully selected to ensure good protection against burglary and to meet our strict design requirements. The door is CE marked in accordance with the Construction Products Regulation (CPR) according to applicable standard EN 14351-1.
Detailed facts for inset Ecolid steel doors
CE-marking
All doors are CE-marked to comply with the Construction Products Regulation in accordance with applicable standards EN 14351–1.
---
Insulation properties
U value 2.2 W/(m2/K) calculated in accordance with EN 10077–2
---
Air permeability
Class 4 in accordance with EN12207.
---
Closing force
Class 2 in accordance with 12046-2.
---
Resistance to water penetration
Class 3B according to EN 12208
---
Wind load resistance
Class 3 in accordance with EN12210
Lock
The pass door is fitted with Dorma DL 919–50 and a Dorma DS 9002 striking plate as standard.
Brackets mounted on the door leaves
Electrogalvanised and powder-coated steel for ultimate corrosion protection and finish.
Windows
Insulating glass panes D4–12 Star argon in six different standard sizes. Standard breast height is approx. 1,070 mm. Other options are available to order. 7-year warranty against condensation between the glass layers. Window frames in natural anodised aluminium profiles with broken thermal bridges.
7-year warranty
See separate documentation with our warranty conditions.
Door leaf
Process laminated sandwich panels. Thickness 50 mm. Max. size of an individual door leaf 1,329 mm x 2,500 mm. Frame for fastening of rubber strips etc. in extruded, natural anodised aluminium profiles. Steel reinforcements cast into the door leaves as attachment points for the hinges, controls and other components.
Cladding
Interior and exterior of hot galvanised sheet steel. Available in eleven standard colours.
Insulation
50 mm Freon-free polyurethane foam for the best possible insulation properties.
Seals
All seals are age-resistant silicone strips.
Colours shades, colours for Ecolid steel doors
The colour of the door is obviously of high importance to the overall impression of the building.
All Ecolid industrial doors and pass doors are clad in sheet steel.




CHOCOLATE BROWN 434
RAL: 8017

OLIVE GREEN 874
RAL: 6003

GRAPHITE GRAY 036
RAL: 7024

ANTHRACITE GREY 035
RAL: 7016




GREY ALUMINUM 044
RAL: 9007
Please note that the actual colour may vary from what is shown on a computer display. For the exact colours, contact us for sheet samples.
Colour composition
Sheet steel

Zinc layer

Passivation layer

Primer

Painted with 25 μm polyester paint

Colour on rear side 10 µm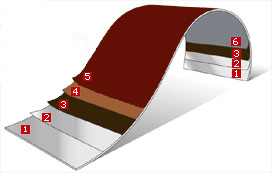 Project guidelines for Ecolid steel doors
Standard sizes of Ecolid steel doors (refer to the clear opening)
900 x 2,100 mm
1,000 x 2,100 mm
1,200 x 2,100 mm
Door inset in C-frame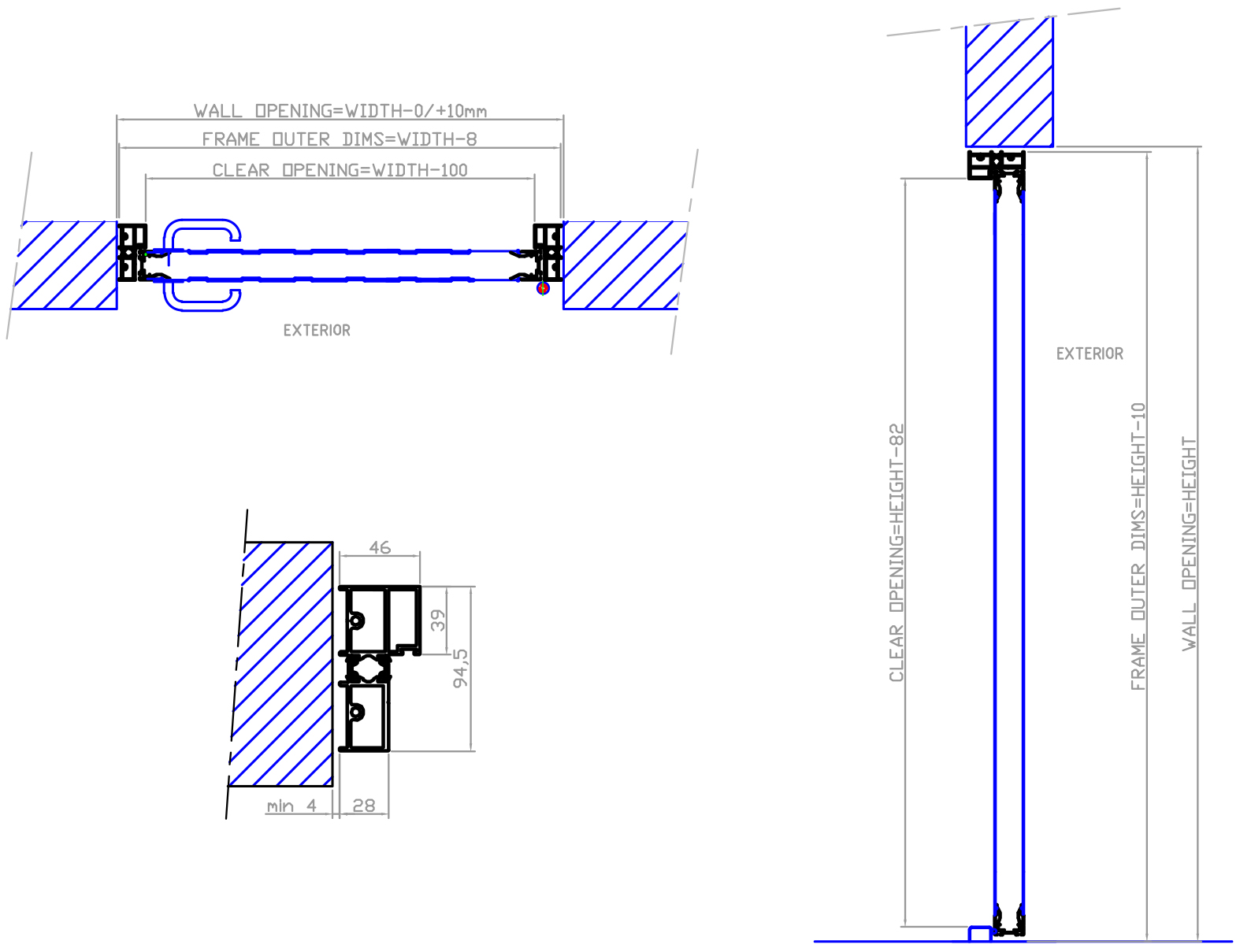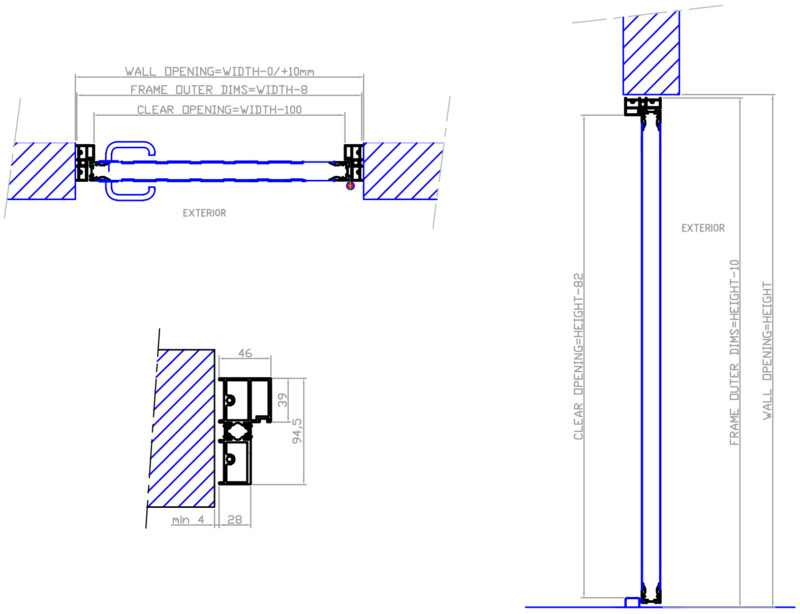 C-frame with lining strip (optional, fitted by customer)